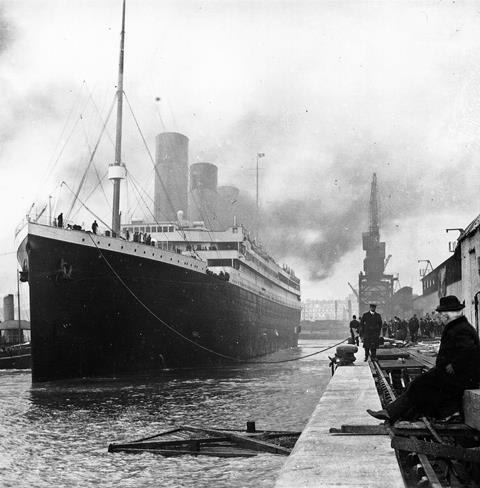 One hundred years ago today, the legendary
R.M.S. Titanic
left Southampton en route to France. It would later sail back to the United Kingdom (Queenstown, which has been now changed by the goddamn Republic of Ireland to "Cobh") and set sail on April 11th, 1912. Many reams of ink and electrons will be spilled about the famous ship this week (we're one day of the week "ahead" of 1912), and Saturday night/Sunday morning there will obviously be much going on as that's the anniversary of the day the ship went down. In Alberta, of course, we'll be busy with election talk, but if you had some spare time and some spare money you could... ... ... ... ... ... ... ... ... ..creepily
re-create the trip on an ocean-going vessel with a recent history of safety issues!
The world's most famous maritime disaster has fascinated people ever since, explaining why passengers from 28 countries were prepared to pay up to 8,000 pounds each to be a passenger on the memorial cruise organised by a British travel firm. The Balmoral will follow in the wake of the Titanic, sailing near Cherbourg in France and then calling at Cobh in Ireland before arriving at the spot where the Titanic went down. There, on April 15, a memorial service will be held on board to mark the centenary of the disaster. Passenger Jane Allen, whose great-uncle died on his honeymoon trip on the Titanic while her great-aunt survived, said she did not think it was "ghoulish or macabre" to go on the voyage. "I've been to World War One and Two cemeteries in various places across the world and I think it is always important to remember. The people here in the Titanic died in very different circumstances but it was still quite unbelievable what happened that night," she told the BBC. Organisers said 1,309 paying passengers booked on the memorial voyage. While the Balmoral is a modern ship, the 12-night memorial cruise will try to recreate the atmosphere of the time with dishes and music from the era, while experts will give lectures about the Titanic.
Okay, can you think of possibly a dumber idea? Your time spent aboard a
modern-day luxury cruise liner
(at a $16,000 per person pop) will at best be somber and eye-opening. At best. That's a lot of money to be somber and eye-opened. Second-worst case scenario is that it's a perfectly normal cruise and that you've overpaid for a memorial that you don't actually get to have, gambling at the casino, overeating at the buffet, and getting 50,000 pedicures. Alternately, the worst case scenario will be an ultimately depressing experience as you contemplate the ghosts of time that are wandering the poop deck with you, feeling sullen and guilty and worried about the future. Well, okay, that's not true. The worst case scenario is
that ship could sink at sea killing 2/3s of its passengers too
. Because this is tempting fate just a little bit too far.